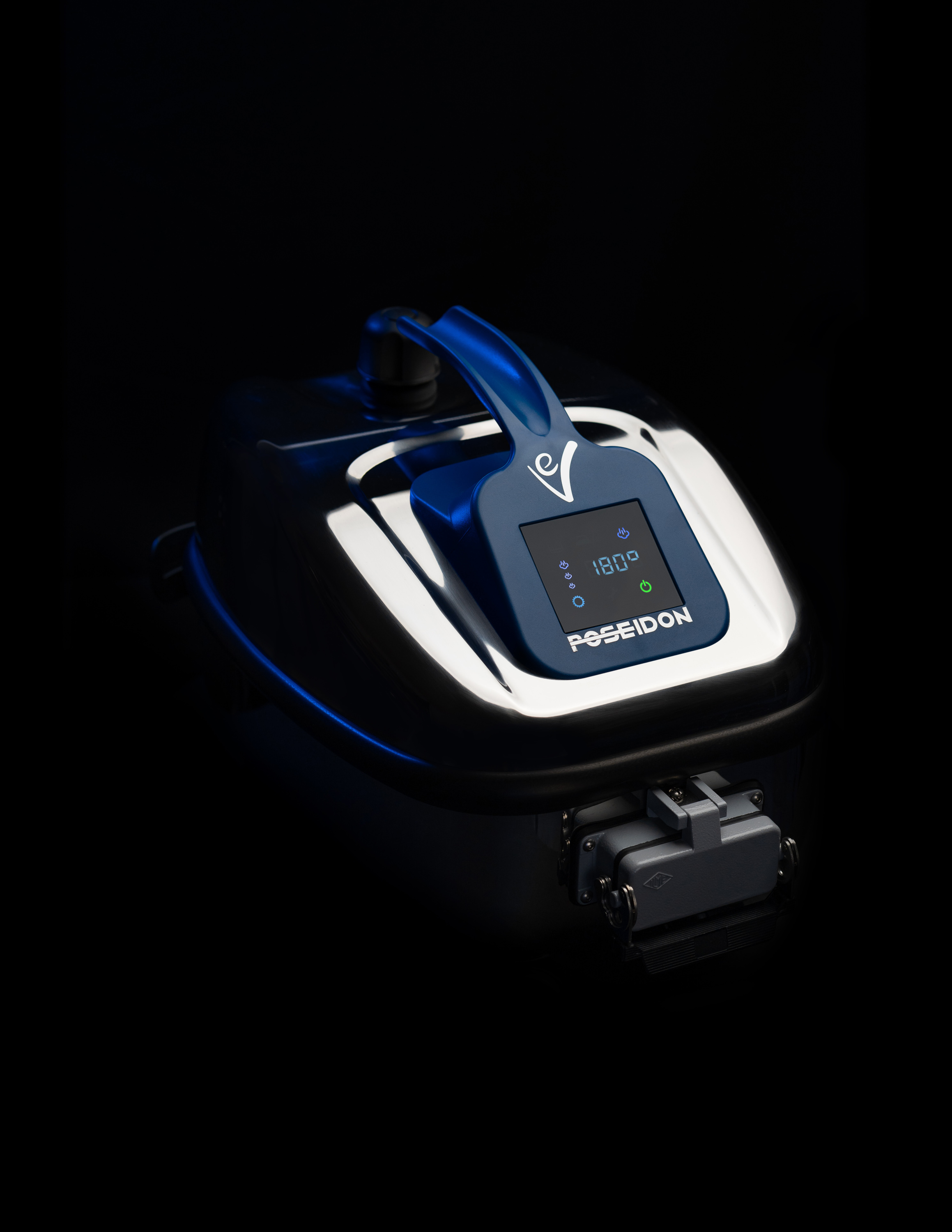 All you need for perfect hygiene in your establishment.
One appliance - thousands of applications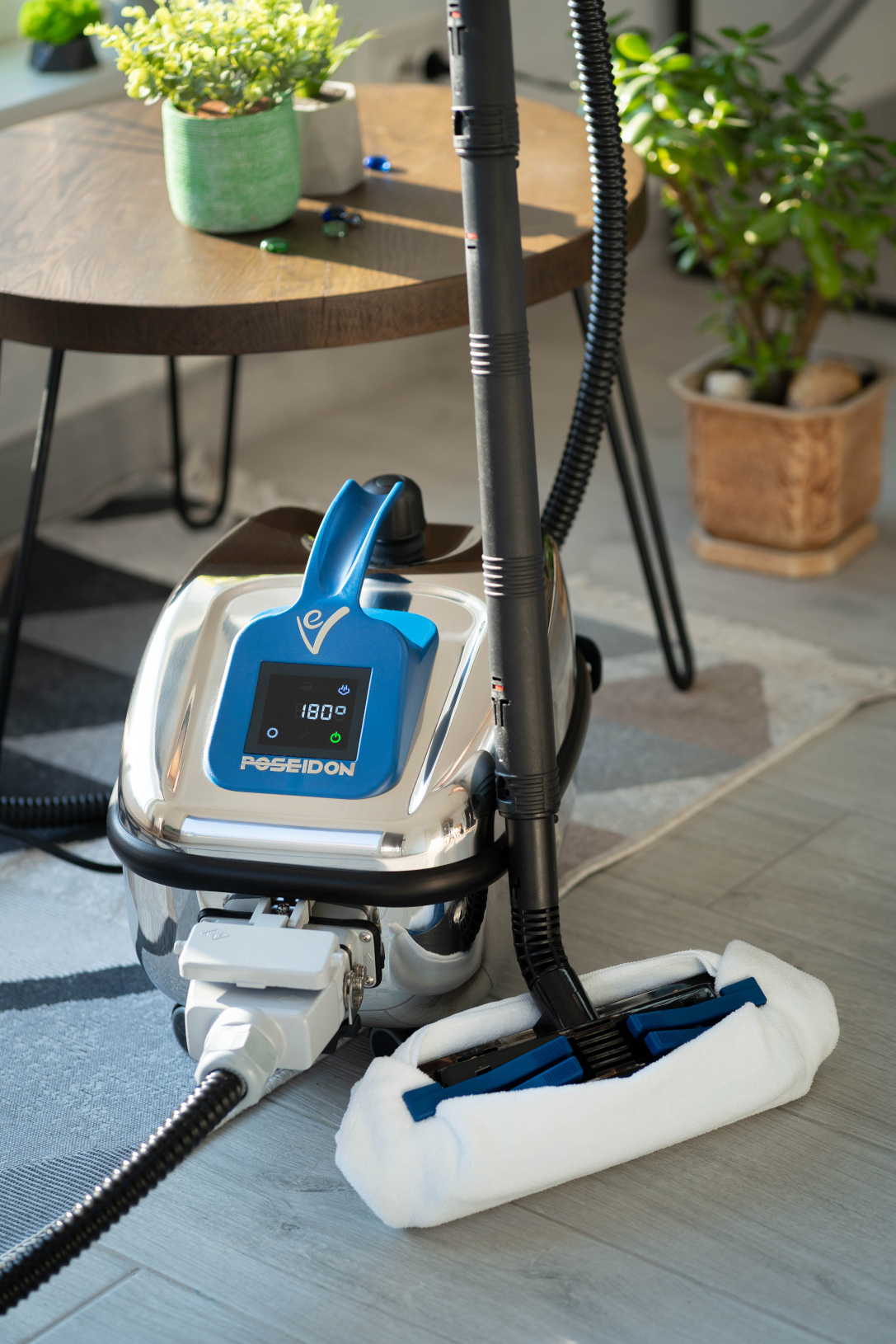 Save time, effort and costs with the versatile cleaning system EV POSEIDON. Able to sanitise without the need for any chemicals, EV POSEIDON does not leave any irritating odours and is ideal for professional use in high-traffic areas.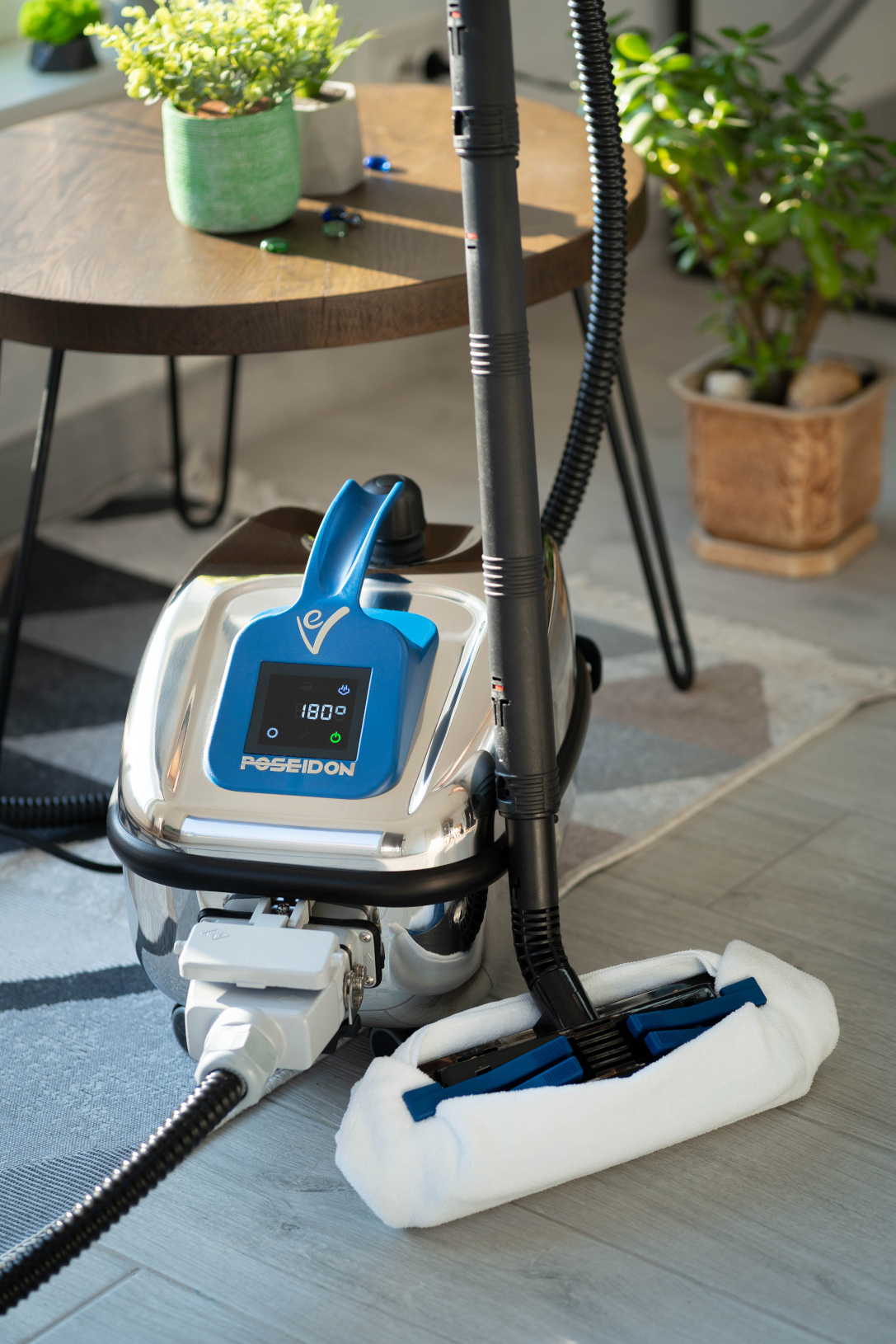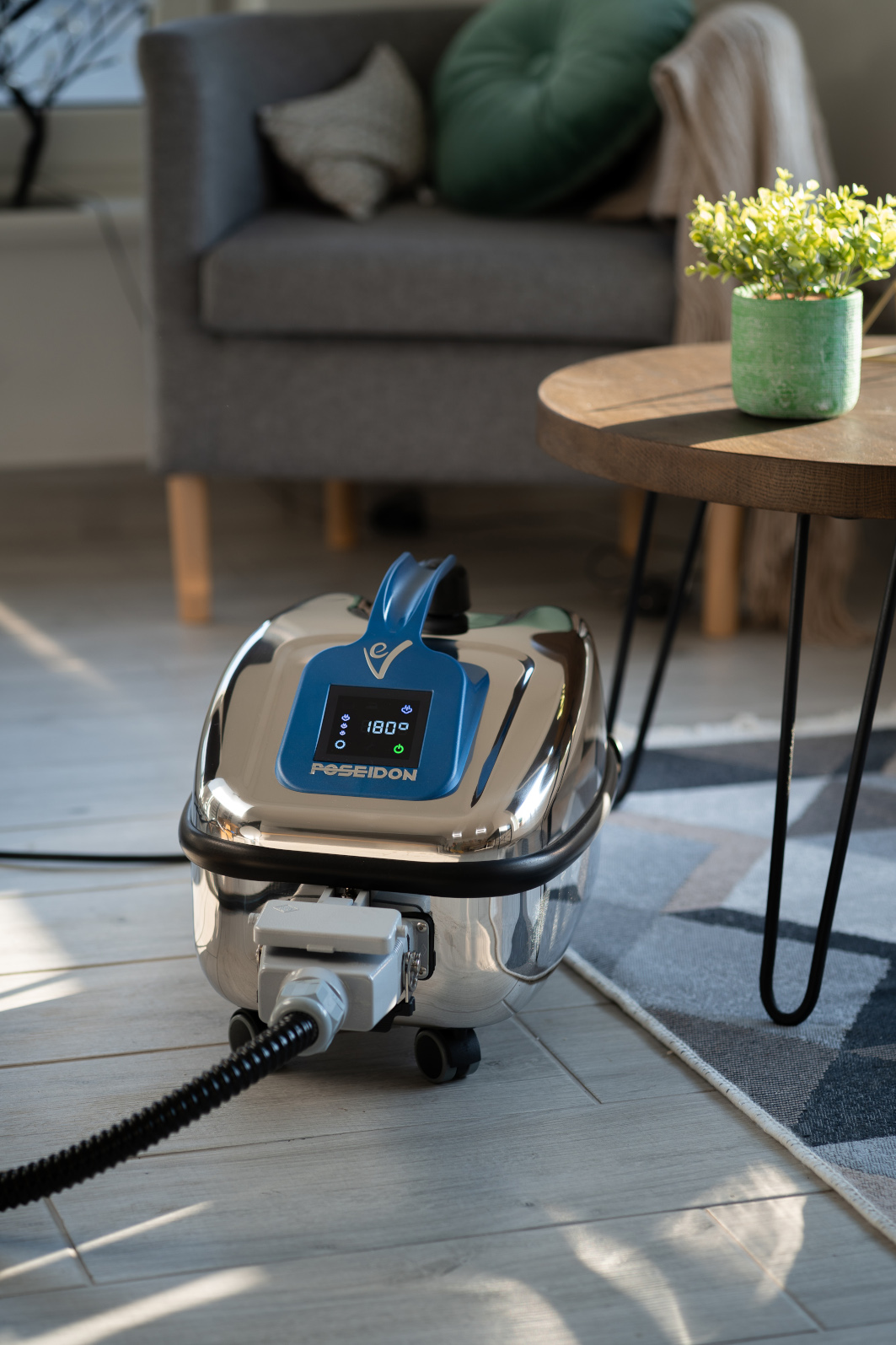 Use the power of nature to your advantage with EV Poseidon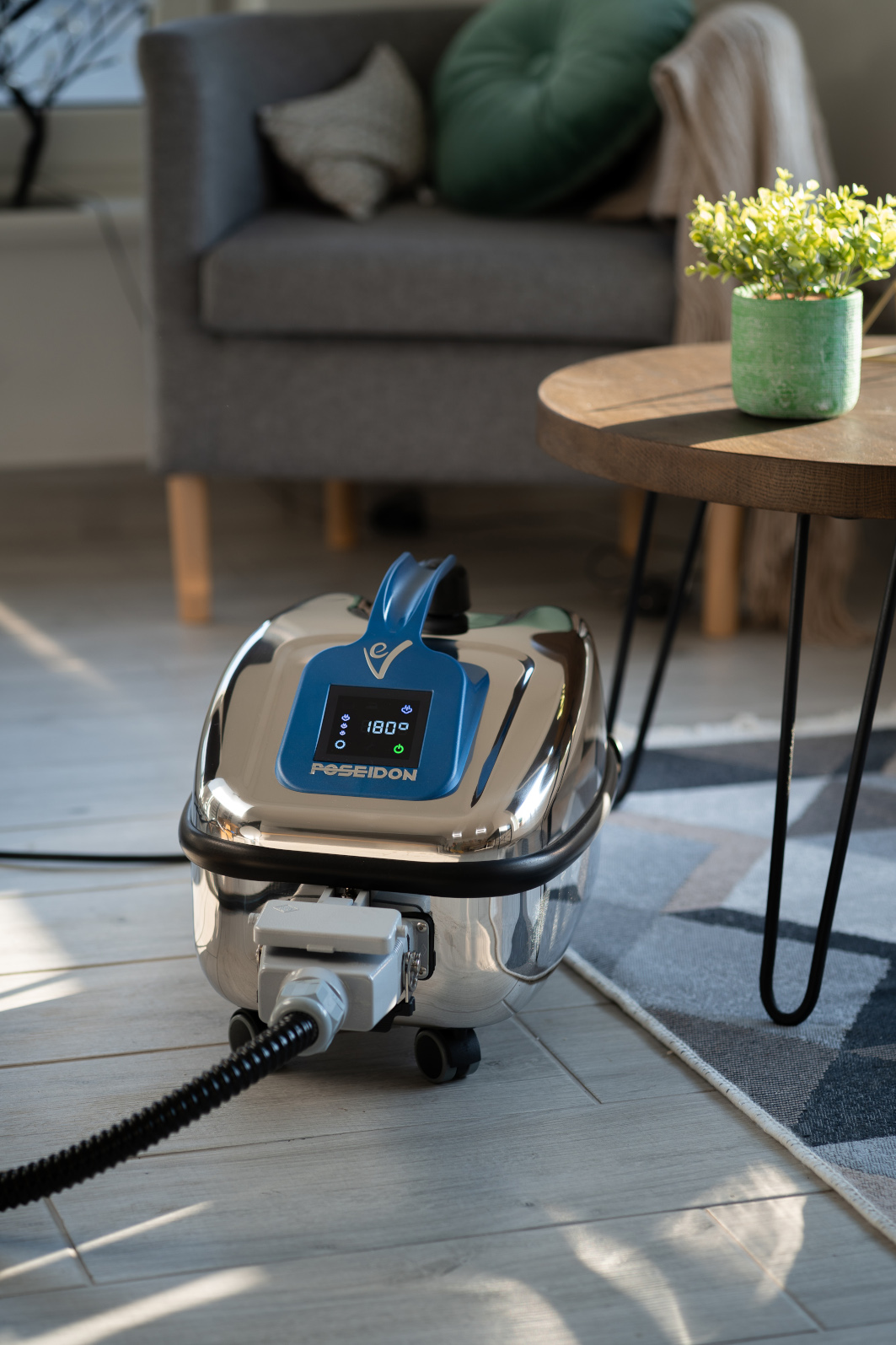 Traditional cleaning methods often rely on harsh chemicals and detergents that can be harmful to the environment. Thanks to its innovative technology, EV POSEIDON uses only a small amount of tap water and turns it into a saturated dry steam at 180 °C / 356 °F that breaks down any contamination with ease. It can kill up to 99.9% of bacteria and other germs, providing a higher level of sanitation than traditional cleaning methods.
Cost-efficient cleaning
EV POSEIDON completely eliminates the need for cleaning agents.

Regular dry steam cleaning prevents rust and decay and protects appliances and equipment from rapid depreciation.

With a life expectancy of over a decade, EV POSEIDON will keep your business spotlessly clean for many years to come.
Unparalleled ease of use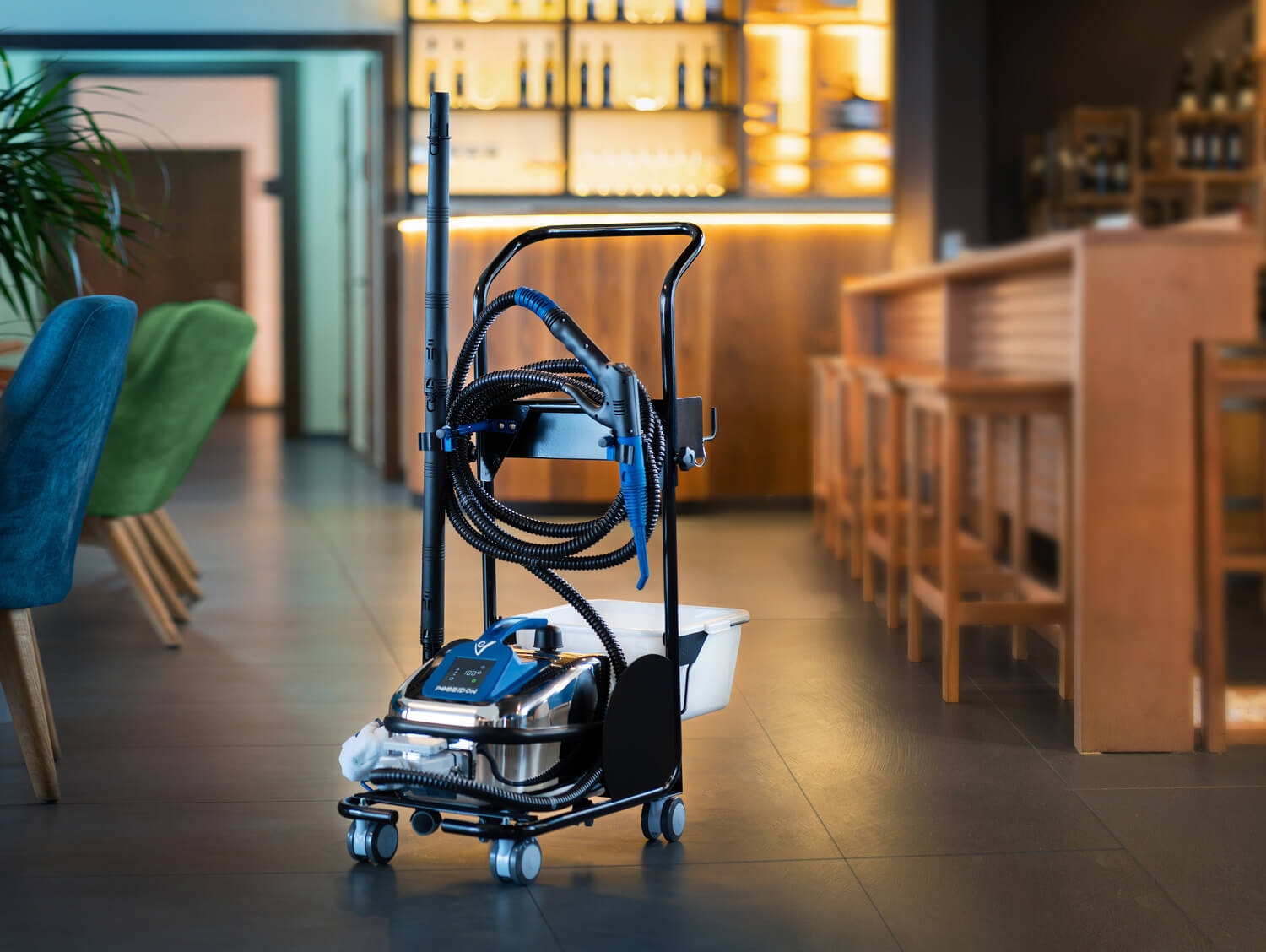 EV Poseidon comes with a specially customised trolley with which it's even easier to move around and clean large spaces. Equipped with just the right features, EV POSEIDON's trolley has a place for all EV accessories.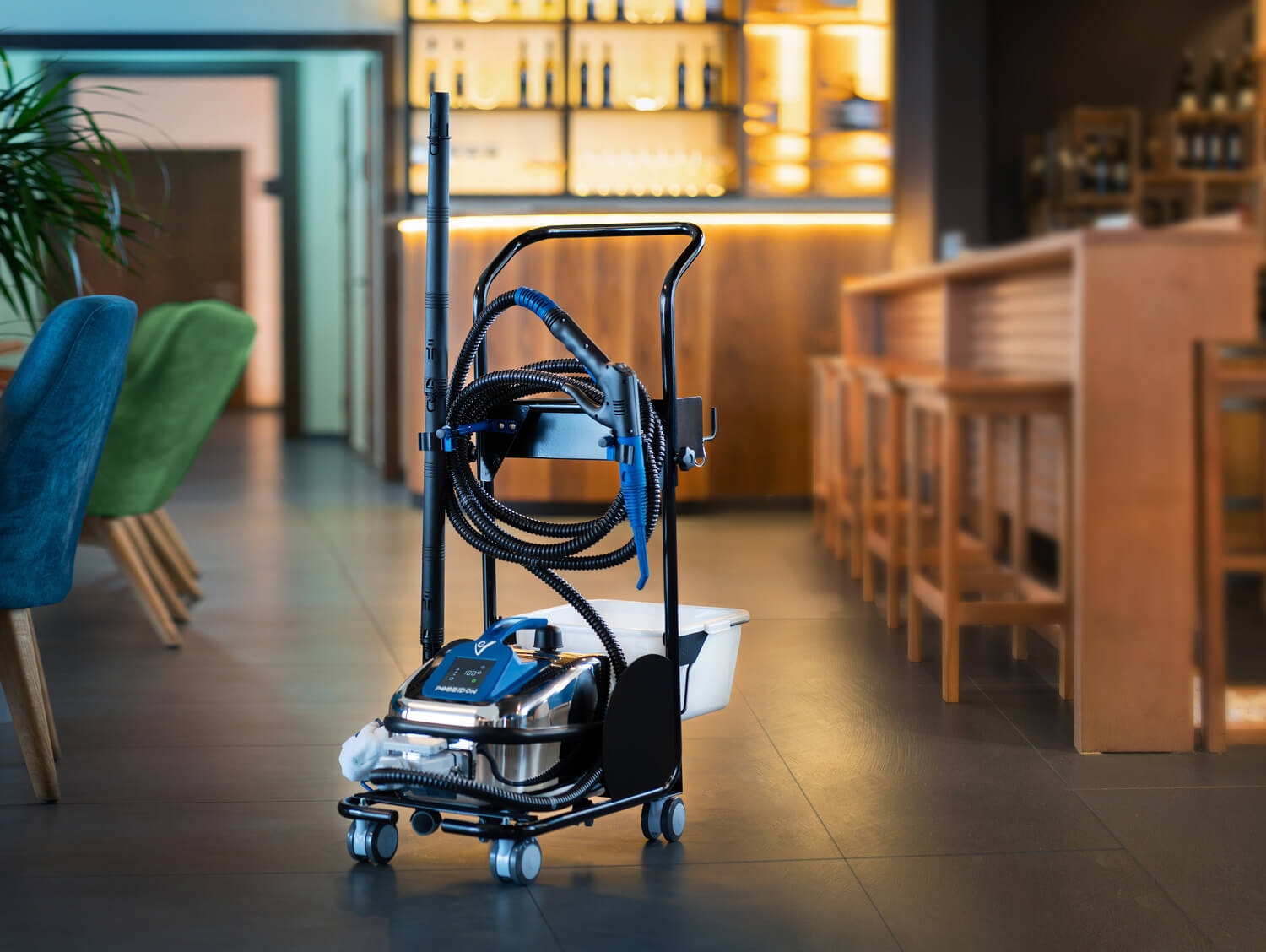 ---
Technical data
power supply
220 / 110 - 50 / 60 V - Hz
working pressure
8 bar / 116 Psi
boiler power
2000 / 1650 W
steam production
110 g / 3.9 oz per min
power absorption
9 A / 220 V - 13 A / 110 V
boiler temperature
180 °C / 356 °F
boiler capacity
2.2 liter / 0.58 gallon
boiler material
type AISI 304
steam output regulation
electronic, 3-tier steam control
water ejection
yes - continuous use
body material
type - INOX AISI 304
power cable length
5 m / 16.4 ft
steam hose length
5 m / 16.4 ft
net weight of the unit
7.5 kg / 16.5 lbs
Use tap water only.
Regular maintenance will prolong the life of your steam generator. For more information check your user guide supplied with the unit or ask your local distributor.
---
Additional accessories
Add customised attachments to your steam cleaning kit and tackle an even wider range of cleaning tasks with ease and efficiency.
---
User Guide EV POSEIDON
You can download the User Guide for EV POSEIDON in Pdf. file by choosing your preferred language and get all the needed information about how to use the unit.